LandonHouse Community Events & Announcements

Welcome home to LandonHouse. We are happy that you have choosen LandonHouse as your home in Lake Nona. As Florida's first gigabit community and the nation's first Iconic Cisco Smart+Connected City, Lake Nona is meeting the demands of the future. In addition, the Lake Nona Region is home to Lake Nona Golf & Country Club, a life sciences cluster becoming known as Lake Nona's medical city, and an array of retail centers, recreational facilities and residential options. We will update this page monthly to include our upcoming LandonHouse resident events & announcements. We look forward to meeting you at one of our upcoming events!
Events

It's Monday, dont feel like cooking dinner tonight? Dominos Pizza will be here TONIGHT from 5:00 pm - 8:00 pm in the recreational retreat. Stop by to pick up your $5.00 pizza & $2.00 two liter soda.
Cash and credit accepted.
---
Massey Pest Control will be on property tomorrow. Get your pest control request in before Monday at 9:00 am.
---
Join us tomorrow night, Wednesday August 14th, for food truck at LandonHouse. This week, we will have Why Not, featuring Brazilian Pastels & Krysty's Cones, specializing in soft serve icecream.. Foodtrucks will be in front of the main lobby entrance from 5:00pm to 8:00pm. Hope to see you there.
---
LandonHouse Hallway Carpet Cleaning
LandonHouse will be completing carpet cleaning on all floors beginning Monday 08/19/2019, and proceeding through Friday 08/23/2019. We will begin on the 5th floor and proceed down each level until all floors are completed. Please remove your hallway door mat on the day your hallway is scheduled to be cleaned. Blowers will be placed throughout the hallways until 8:00 pm to facilitate carpet drying, at which time, they will be removed. We appreciate your understanding and co-operation in this matter.
---
Join us Thursay, September 12th at 6:30pm for Painting with "Nissy". Local artist Oneseas "Nissy" Mendez with lead the adult painting class for LandonHouse residents. The cost is $25.00 per person wich covers supplies and light freshments. Registration and payment are required by Monday, September 9th. Please speak with the leasing office to register. This class is limited to 20 participants, so register early.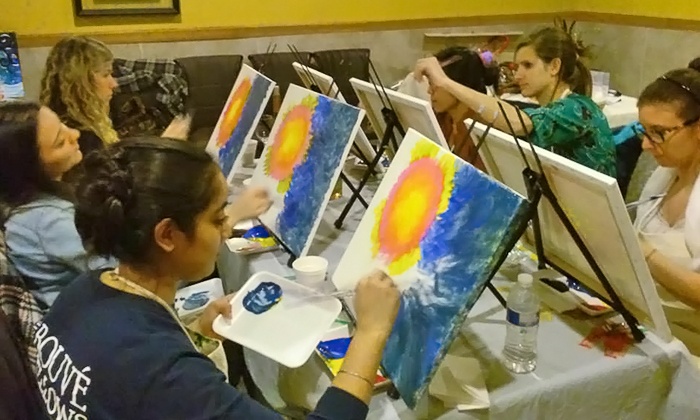 ---
Apt 402 relocating sell light color sofa like new $500 10 month old, two gray arm chairs like new both 6 months old, convertible ottoman great shape $250 text 513-265-9603 if interested will send pictures

(0 comments)

Douglas Gess

|

August 3, 2019

(0 comments)

Like New Twin DayBed with pull-out Trundle !! Ivory/Cream/ Antique White Color from Wayfair last year. You can have the Memory Foam Mattress and Bunky Board if you want it as well. Very elegant ... perfect in your apt for a Pretty Girl ???? Asking $225.... was $450 new. Text me ... 407 799 7628. I'm on the 4th Floor ??

(0 comments)

Emily Shropshire

|

July 31, 2019

(0 comments)

Last day for the moving sale....still have a few things left so stop by soon especially if you need bookcases, wine bar, table, (very sturdy IKEA) bar stool, Sony BRAVIA.....ready to unload today, tomorrow... 321 368 3989 or [email protected]

(0 comments)

Louis Ross

|

July 30, 2019

(0 comments)

Selling office desk 60"Lx23-5/8"Wx30"H with chair. Both items have barely been used and are in like new condition. Text Omar at 7872246537 for photos and pricing.

(0 comments)

Omar Delgado

|

July 27, 2019

(0 comments)

Items for sale: 1. Queen bedroom set- mattress, head/foot boards, matching mirror with dresser. Some wear and tear on top of dresser. Mattress and bed are in great condition. 2. Matching living room set- one leather sofa, matching coffee table and end table. Some wear and tear on these items, but still in good shape. Please text Christa at 630-479-1251 for pictures and pricing. Discounted price if you take it all!

(0 comments)

Christa Hastings

|

July 15, 2019

(0 comments)

Items for sale, prices negotiable- Text Tara at 407-247-0152 for photos 1. Small bar table with storage for wine bottles, glasses, and tabletop. 2. Ceramic vegetable jars (green pepper, yellow squash, purple eggplant

(0 comments)

Tara Wilson

|

June 28, 2019

(0 comments)

I have an entertainment center that I no longer use. if anyone is interested in buying it I can send pictures. need gone ASAP so I will sell cheap. 352-421-8348 Thanks!

(2 comments)

Ryan Pappas

|

June 28, 2019

(2 comments)

I just moved in and I need to hang curtains I was wondering if anybody had a ladder I could borrow I would only need it for today

(1 comments)

Lisabeth Esposito

|

June 25, 2019

(1 comments)

FOR SALE: 2007 Chevy Tahoe LT 4 dr SUV, 3rd row seating, 205,000 miles, new tires at 202,000 miles cruise control, keyless entry, remote started, trailer hitch, weather tech mats through out, roof rack Interior leather, excellent condition....Text 407-885-8233, will send pictures

(0 comments)

Erma Scott

|

June 13, 2019

(0 comments)

FOR SALE : 2 Like New Barstools from Wayfair ... Fabric Covered in Cream w/Silver Nail Head Details and Espresso Wood Legs ... $400 new ... sell for $175 for both ... Text 4077997628 and I send you pics !!

(0 comments)

Emily Shropshire

|

June 2, 2019

(0 comments)

Moving 6/3/19. Following items for sale: IKEA bookshelf/entertainment center (black) Barstools (2); gray Wicker patio furniture (unused, in box); 2 chairs, glass top table; dark brown Inversion Table IKEA Stand-up/adjustable Desk Inquiries, please text 347.968.0179

(1 comments)

Javan Hayes

|

May 30, 2019

(1 comments)

I am moving at the end of June. I have a queen bedroom set that I'm looking to sell. A few other things as well. Glass shelving accents. Bar Stools. Etc. etc. Text if interested. 302-420-7779

(1 comments)

Glenn Sutch

|

May 24, 2019

(1 comments)

Hi neighbors:) I'm Lythia Scanlon and we (husband, Steve) have been here a week. Fantastic place love it here. Looking forward to having some fun times. Have a great day! LYTHIA

(0 comments)

Lythia Scanlon

|

May 16, 2019

(0 comments)

For Sale: Kitchen High Table including 5 Chairs. Classy Modern Look. If Interested text 407.227.9055

(0 comments)

Daniel Cross

|

May 7, 2019

(0 comments)

For Sale: King Size Bedroom set including Headboard/Footboard, mattress and box spring. Full Size Dresser Drawer and Night Stand. All in Good Condition. If interested text 407.227.9055

(0 comments)

Daniel Cross

|

May 7, 2019

(0 comments)

Looking for cheap bar stools

(1 comments)

Patty Tellez

|

May 6, 2019

(1 comments)

For sale. Like new Radio Flyer tricycle. $20. If interested text 478-397-8578.

(0 comments)

Kenneth Vance

|

April 27, 2019

(0 comments)

For sale. Antique electric glass double globe table lamp painted with magnolias. $45. If interested, text 478-397-8578.

(0 comments)

Kenneth Vance

|

April 27, 2019

(0 comments)

Antique rocking chair for sale. Painted gray. Cushioned seat gray with white polka dots. $50. If interested text 478-397-8578.

(0 comments)

Kenneth Vance

|

April 27, 2019

(0 comments)

Is anyone else having difficulty logging into the site to make a maintenance request?

(1 comments)

Sydney Koestoyo

|

April 11, 2019

(1 comments)

Hi neighbors!! Our handsome cat, Rusty, got out tonight. If you see him, then please bring him to 145. He's a seal point, blue eyed, rag doll ... aaannnnddddd a sweetheart. Thanks so much!!!

(0 comments)

Mary Beth Perrow

|

April 7, 2019

(0 comments)

Brand new (in box) Grey upholstered setee/bench. Doesnt work for our space and cant return. See the listing here. https://www.amazon.com/gp/aw/d/B00U433QIQ/ref=yo_ii_img?ie=UTF8&psc=1&th=1 Needs to be claimed tonight/tomorrow or its going to charity Monday 3/25/19. Asking $150 please text 352-641-0654

(0 comments)

Tavis Sisson

|

March 23, 2019

(0 comments)

Brand new (in box) Grey upholstered setee/bench. Doesnt work for our space and cant return. See the listing here. https://www.amazon.com/gp/aw/d/B00U433QIQ/ref=yo_ii_img?ie=UTF8&psc=1&th=1 Needs to be claimed tonight/tomorrow or its going to charity Monday 3/25/19. Asking $150 please text 352-641-0654

(0 comments)

Tavis Sisson

|

March 23, 2019

(0 comments)

Hello! Free Rowe furniture chocolate brown couch with matching chocolate brown ottoman. It is similar to the Bradford 2 cushion sofa (without the fluffy pillow backing - this one is all one flat, but cushioned backing). Having salvation army pick it up if no one wants it. Pick up on Saturday (3/16) or Sunday (3/17) only. Text me and I can send a picture (941) 809-5704. First one who says yes, it's yours! ..It's been a great couch, I don't have pets.

(0 comments)

Rebecca Beiler

|

March 15, 2019

(0 comments)

Hello Everyone, Wanted to share a promotion my Dental Office is having for New Patients only. It is $59 for the exam, xrays, and a regular cleaning. We are located in the Publix shopping center, next to the Chase. The office name is Modern Smiles Dentisty.

(0 comments)

Janelle Martinez

|

March 6, 2019

(0 comments)

Office chair and Glass table for sale. if interested, please text 3473897761

(0 comments)

Levy Amar

|

March 1, 2019

(0 comments)

Hello! Is anyone interested in learning Portuguese and teaching English (intermediate)? I am available to teach and lean!!

(1 comments)

JANAINA PASQUAL LOFHAGEN

|

January 7, 2019

(1 comments)

For anyone having trouble clicking on "Make Payments", just click on "PAYMENTS" next to the "Submit Request" and "Lease" buttons.

(0 comments)

Jim Jowers

|

January 1, 2019

(0 comments)

There is something wrong with the Landon House website.I am trying to pay the rent and the blue square in the middle of the screen won't let me.

(0 comments)

Gustavo Arias

|

January 1, 2019

(0 comments)

Unable to pay rent. Blue box in center of screen prevents most actions. I seem to be able to post messages but cannot pay rent. This has happened for multiple months.

(0 comments)

Sydney Koestoyo

|

January 1, 2019

(0 comments)

Tutor/HW Help: K-12 teacher and doctoral candidate available to help with ELA/reading HW, test prep, iReady, and reading level improvement evenings/weekends. E-mail Tara at [email protected]

(0 comments)

Tara Wilson

|

December 9, 2018

(0 comments)

Is there something wrong with the Landon House website? Trying to pay my rent but there is a blue box in the middle of the screen blocking it.

(1 comments)

Gustavo Arias

|

December 1, 2018

(1 comments)

(2) FREE wooden bar stools from Linens and Things. In good condition. Moving December 3rd. Please email me at [email protected] if interested.

(1 comments)

JT

|

December 1, 2018

(1 comments)

Handyman Wanted: I need a handy man to reassemble a tall wall unit with 4 shelves, hang pictures and a large wall mirror and help me move some boxes and items around. Please call me. Shirley 407-538-7039

(0 comments)

Shirley Valentine-Attoh

|

November 12, 2018

(0 comments)

I am selling a brend new queen mattress (bought 1 month ago). We bought for visits, but we won't use it anymore. USD 260,00. Unit 508, phone (407) 257 8460.

(0 comments)

JANAINA PASQUAL LOFHAGEN

|

October 23, 2018

(0 comments)

I am giving away a really nice loveseat, due to moving. Please contact or text 321-315-3029. Move out date is Oct. 5, 2018. Need gone ASAP, Apt. 331

(1 comments)

Ronnie Webb

|

September 24, 2018

(1 comments)

I am selling a faux leather sofa, grey colour. Reasons being because I am moving. Text me if interested, 8574984600. Moving ends before the 30th.

(0 comments)

Giampiero Giovingo

|

September 21, 2018

(0 comments)

Hello everyone, I am selling a beautiful grey L faux-leather sofa, reasons being because I am moving. I live in 302, if interested, please contact +1 957 498 4600.

(0 comments)

Giampiero Giovingo

|

September 21, 2018

(0 comments)

Hi everyone! We have a black queen size rooms to go headboard and footboard to sell. Also have 2 black nightstands as well. Let me know if interested and I can send pics/info!

(0 comments)

Amanda Sheabar

|

September 15, 2018

(0 comments)

Hi Everyone! I am having a moving sale. Several items available including end tables, wall art, floor mirror, and 2 ottomans

(2 comments)

Darline Romain

|

September 5, 2018

(2 comments)

Selling a large Leather Ottoman from Pottery Barn in excellent condition. Sells for $875 new on sale. Selling for $350 OBO. Contact [email protected] or call 407-719-3111 for picture. Measures 4 feet by 2.5 feet. 18 inches tall.

(0 comments)

David Barnoske

|

July 31, 2018

(0 comments)

Hi everyone! I just wanted you to know if you are looking for some amazing smalls for your apartment home, I am now a Scentsy rep. Please email me at [email protected] and we can meet up in the clubhouse. I truly only joined because I Lake be the product so much, so just sharing if anyone would like to check it out or even host a party!

(1 comments)

Patricia Fray

|

July 20, 2018

(1 comments)

Attention Landon House residents. I am having a moving sale and I still have a couple of things left that need to sell quickly. Come to unit 351 during the following times: Today 7/15-Sunday 7/22, until 8pm. Items I still have includes a 4 piece queen bedroom set in good condition, end table, TV stand, barstools as well. Let your friends know as well. Everything must go and still in fairly good shape. Call or text me 516-587-9833! Hope to see everyone soon! :)

(0 comments)

Meryl John

|

July 15, 2018

(0 comments)

Hi everyone, I am selling everything in my apartment from furniture to electronics to appliances. We have a couch, a whole bedroom set, 2 TV's, lamps, small table and much more. If you have chance to stop by and see what I have, trying to sell everything. Please call me at 516-587-9833 if you do have any questions and my unit is #351. If you are interested in checking out what I have here, please call or text me, beforehand. Thank You :)

(0 comments)

Meryl John

|

July 5, 2018

(0 comments)

Hi everyone, I'm in 534 and I was wondering if anyone accidentally picked up a package left in front of my door. It was left by Amazon on Monday, May 21. If you happen to have seen it please let me or the office know. Thanks in advance!

(3 comments)

Morgan Irwin-Weyant

|

May 26, 2018

(3 comments)

furniture sale, I am selling everything in my apartment, stop and see. sofa with a chase, a small dinning room set, and a entertainment center , and a few more pieces. my number is 773-580-1662, I'm in unit # 342 and my name is Andy.

(1 comments)

Andy Hernandez

|

April 30, 2018

(1 comments)

Interested in playing chess for fun. Would be interested in creating a Social Chess Club at Landon House. Contact me at [email protected]

(0 comments)

David Barnoske

|

April 27, 2018

(0 comments)

Have a brand new Polk audio soundbar in box. Model SB1 Plus. Asking $160. If interested, please call 4075798001.

(0 comments)

Natarajan Rajagopalan

|

April 10, 2018

(0 comments)

Moving by EOM. Ikea King Bed, Padded headboard, expresso frame, 5 month old Sams Club Mattress, no box spring needed, 2 blue upholstered barstools, Ikea Couch/Queen bed grey, open Shelved media stand expresso color, outdoor chairs, plants, other household items, dishes etc. [email protected] for pix and viewing.

(0 comments)

James Serviss

|

April 10, 2018

(0 comments)

Interested in playing chess for fun. Moving into Landon House on April 20th. Contact me at [email protected]

(0 comments)

Sydney Koestoyo

|

April 9, 2018

(0 comments)

Open to purchasing moving boxes & bubble wrap

(1 comments)

Gloria Bowens

|

March 28, 2018

(1 comments)

We have 4 modern adjustable bar stools for sale (hydraulic swivel, leather padded with back, chrome base, white color). They are brand new in side the package. Price is $180 for all four. Please contact my cell 202-810-4001 to coordinate and stop by to take a look.

(1 comments)

Mehdi Pakfetrat

|

March 21, 2018

(1 comments)

Anybody want to buy a few 32 inch flat screen tvs? let me know. must go

(1 comments)

Sahara Cox

|

February 28, 2018

(1 comments)

Anybody want to buy a few 32 inch flat screen tvs? let me know. must go

(0 comments)

Sahara Cox

|

February 28, 2018

(0 comments)

Attention Landon House residents. I am having a moving sale and still have several nice items left that need to sell quickly. Come to unit (#243) during the following times: tonight- Friday (12th) until 8pm, Tomorrow morning from 6am-8am, and tomorrow afternoon from 4pm-7pm. Items I still have include a 4 piece Broyhill king bedroom set in excellent condition, burgundy leather couch and love seat, dark wood TV stand/cabinet, office desk, tall book shelf, small cube shelf, misc. kitchen items and household items, folding chairs, and more. Let your friends know as well. Please help spread the word as these items cannot go with me. Everything is in good shape.

(0 comments)

Travis Jacob

|

January 12, 2018

(0 comments)